OUR LOCATION
& HOURS
Desert Sierra would like to thank all of our loyal customers throughout the years.

Office Hours:
Monday: Noon–7pm
Tuesday: 7:15am–3pm
Wednesday: 8am–Noon & 2pm–5pm
*(closed 12pm–2pm)
Thursday: 7:15am–3pm
Friday: 7:15am–Noon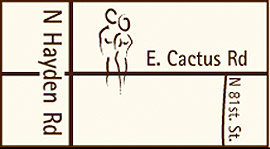 (located at the northeast
corner of Hayden & Cactus)
Google Map
PRIVACY POLICY
Desert Sierra Medical is dedicated to maintaining the privacy of your individually identifiable health information. In conducting our business, we will create records regarding you and the treatment and services we provide you. We are required by law to maintain the confidentiality of health information that identifies you. We also are required by law to provide you with this notice of our legal duties and the privacy practices that we maintain in our practice concerning your PHI. By federal and state law, we must follow the terms of the Notice of Privacy Practices that we have in effect at the time.